Village Revitalization Partnership
Senator Patrick Leahy and Marcelle Leahy at the site of the Putney General Store after the second fire, Putney, VT


In 2005, Senator Patrick Leahy and the Preservation Trust of Vermont embarked on a partnership to support local initiatives that would build stronger and more economically vibrant villages and small downtowns. Since 2005, the Village Revitalization Initiative, with funding from the Department of Housing and Urban Development (HUD) Economic Development Initiative (EDI) grants, has invested $2,435,200 in twenty-seven community projects, playing a critical role in over $27 million worth of total project costs.
The Preservation Trust of Vermont provides hands-on technical assistance, project management, and grants management assistance. The grants were awarded for the rehabilitation of historic community buildings located in the heart of the village center or in a small downtown. A primary criteria for selection was that projects must result in an enhanced community use of a facility.
Construction jobs were produced and permanent jobs have been created. Short-term federal and state income tax revenues were raised from construction wages, and long-term property tax revenues have been produced. Long-term, the HUD EDI investments will play a crucial role in the vitality of communities and reinforce the essential character of Vermont—a crucial effort in maintaining the state's special brand.
The grants ranged from $20,000 to $250,000 for revitalization projects ranging from $50,000 to $7,000,000. Here are a few examples:
Sweat Comings, Richford, VT

In Richford (pop. 2,200) a group of community volunteers and Housing Vermont came together to rescue part of the former Sweat-Comings Furniture Mill for a variety of community services. The four-story Main Street Mill now houses a full service grocery store (the only one in the community), a nonprofit health center, a pharmacy, dental clinic, and fourteen units of affordable housing.
In Randolph (pop. 5040) the Board of the Chandler Music Hall took on the daunting task of raising $3.5 million to correct life safety and accessibility problems, rehabilitation work, and upgrade building facilities. Support of voters, individual donors, the Village Revitalization Grant, and the passion of the volunteer Board and small staff helped the organization achieve its goal.
Strafford Town House, Strafford, VT

In Strafford (pop. 1075) community members have been caring for their Town House for over 200 years. It is the symbol of their community and the foundation of democracy in Strafford. Each year Town Meeting is held at the Town House, as well as a summer lecture series and other community events throughout the year. The Village Revitalization Initiative grant, coupled with other fundraising, made it possible to rehabilitate the deteriorating bell tower.
In Putney (pop. 2616), the economic hub and driver of the village center was the Putney General Store. An accidental fire in 2008 nearly destroyed the building, and in turn devastated what had been a very strong village center. The short version of the story is that the Putney Historical Society stretched beyond their traditional role and took on the responsibility of rehabilitating the building, which dated from the 18th century. With help of a Community Development Block Grant, the building was stabilized and was ready for the final rehabilitation work. Then an arsonist struck in 2009. But the community did not walk away; they rebuilt the store from the ground up. Opening day is December 10, 2011.
Brookfield Town Hall

There are just four examples of the community-based efforts the Village Revitalization Initiative has supported. Each of the other twenty-three projects has an equally compelling story. All projects resulted in an enhanced community use and increased vitality with projects ranging from opening a shuttered opera house to building an active community center.

Addison County
$100,000 Salisbury, Shard Villa
$100,000 Ferrisburgh Grange Town Hall
$5,000 Shoreham, Newton Academy [project ended when a fire claimed the Academy]
Bennington County
$100,000 Readsboro, Bullock Block
Hardwick Town Hall, Hardwick

Caledonia County
$50,000 Hardwick Jeudevine Memorial Library
$20,000 Hardwick Memorial Hall
$30,000 Hardwick Town House
$54,900 Groton Village Restoration Project
Chittenden County
$25,000 Richmond Round Church
Essex County
$70,000 Bloomfield Town Hall
$60,000 Brighton Town Hall
Franklin County
$100,000 Richford, Sweat Cummings Health Care Center
Grand Isle County
$100,000 North Hero Community Center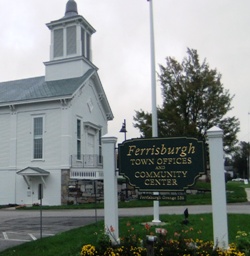 Ferrisburgh Community Center, Ferrisburgh

Orange County
$75,000 Brookfield Old Town Hall
$50,000 Strafford Town House
$75,000 Bradford Public Library
$250,000 Randolph, Chandler Music Hall
Rutland County
$70,000 Brandon Town Hall
$75,000 Pawlet Town Hall Auditorium
$75,000 West Rutland, Vermont Carving Studio
$75,000 Sudbury Meeting House
$100,000 Poultney, Green Mountain College, Bentley Hall
Washington County
$50,000 Worcester Town Hall
Windham County
$100,000 Bellows Falls Town Hall Theater
$160,000 Putney General Store
$65,000 Guilford Village Store
Guilford Country Store, Guilford

Windsor County
$100,000 Rochester, Pierce Hall
$125,000 Springfield, Ellis Block
Summary Over Time
2005 $595,200
2006 $742,500
2007 $112,500
2009 $985,000
Total: $2,435,200

For more information about the Village Revitalization Initiative, please contact ptv@ptvermont.org.