Property for Sale by Preservation Trust's
Historic Places Revolving Fund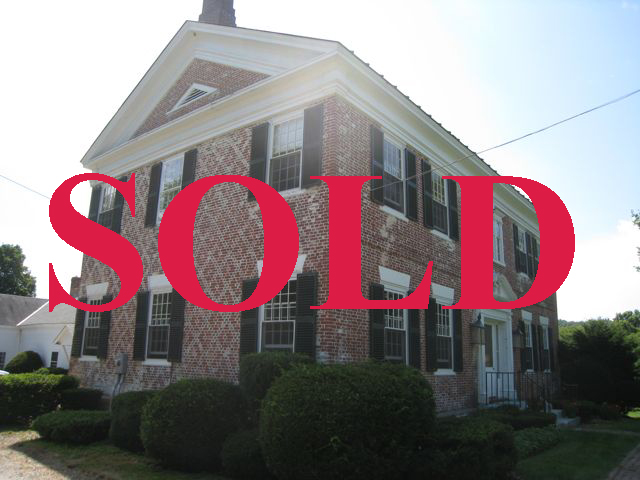 Property: Governor Martin Chittenden House
Address: 267 Route 117, (River Road) Jericho, Vermont
Description: A historically significant 1797 Federal Style two-story, Flemish Bond brick house with attached ell and garage/barn. Located on 2.35 acres of land, the house is surrounded by approximately 80 acres of farmland that is in the process of being conserved. The house retains many historic features on the Exterior and interior and has been very well cared for. It has a gracious central hall and stair, 12 rooms, 5 bedrooms, 5 baths, 8 fireplaces, attached garage/barn, landscaped yard and outdoor pool. On the interior is a rare wall painting on a fireplace overmantle that is considered to be the prototype for the Vermont State seal. A ballroom is a prominent feature of the second floor.
Purchase Price: $549,000
Conditions of Sale: A façade easement on the exterior and significant interior features of the house will be attached to the deed by the Preservation Trust of Vermont.
Governor Martin Chittenden House, Jericho, VT

Background: One of Vermont's most significant early Federal-style houses, the Governor Martin Chittenden House was built in 1797 by Governor Thomas Chittenden for his second son, Martin, as a wedding gift. Thomas Chittenden moved to Vermont from Connecticut in 1787 and was the patriarch of one of Vermont's most prestigious and influential families. He was the first governor of the state and served for 19 terms. His son, Martin was in the US Congress for 11 years and served as governor for two terms.
For more information, contact Emily Wadhams, Director, Historic Places Revolving Fund at ewadhams@gmail.com.