Restaurants in Historic Places
Pleas email us to find out more about how to be listed here.
The Barn Restaurant & Tavern
Pawlet, VT
You choose a restaurant first because of the food it serves. You know good food. You appreciate it. You will like what The Barn does.

We buy whole fish and whole cuts of meat. Our Shellfish is exactly the way it came out of the shell and as many of our vegetables as possible come from our own garden, or the gardens of our neighbors. We trim, season, prepare, and cook everything ourselves, creating the most delicious steaks, seafood dishes, and pasta/chicken/vegetarian dishes you will find anywhere.

We are The Barn. And you will love our food.
The Bearded Frog
Shelburne, VT
The Bearded Frog Bar and Grill serves inspired and eclectic American fare. Located in the Shelburne Village, inside the recently renovated, historic Shelburne Inn. We offer seating on an outdoor patio, an intimate bar and a cozy dining room.
Our Bar opens at 4:30 for cocktails. Dinner is served seven nights a week beginning at 5:00pm.
Carpenter and Main Restaurant
Norwich, VT
Carpenter and Main offers fresh local ingredients in the French tradition. "The seasons are an integral part of life here in Vermont, and we love to share our joy of exploring their abundance and variety. We use goods from local farms year-round to help integrate the spirit and distinctive flavors of Vermont." Chef/Owner Bruce MacLeod

Church & Main Restaurant
Burlington, VT
Church & Main is proud member of the Burlington Edible Historical tour, which highlights several locations around downtown Burlington for their contributions to local culture and food.
www.churchandmainvt.com and
www.burlingtonediblehistory.com
Cornerstone Pub & Kitchen
Barre, VT
Cornerstone Pub & Kitchen is a modern American pub with great food and craft beers. With over thirty years combined fine-dining, pub, and restaurant experience, we have collaborated our passion for the restaurant industry to create a unique gathering place in our hometown. Cornerstone Pub & Kitchen shares offerings that have yet to be seen in Barre. It is a place where friends, families, trades and business people come to gather. We strive to provide atmosphere, food, beverage, ambiance, service and entertainment that is second to none. We welcome you to join us on this adventure. Our ultimate goal is to be the "Cornerstone" of our community, and to help revitalize this city "One Pint At A Time".

The Daily Planet
Burlington, VT
Our creative, eclectic cuisine sends you touring the globe, while our warm and knowledgeable service puts you at ease. Whether with friends, family, or that special someone, we think our colorful alleyway eatery is out of this world!
The choice is yours – we have three unique spaces that allow you to have the experience you're looking for: The solarium's soaring windows and vibrant foliage provides a relaxed yet intimate setting for families and friends. The dining room's cozy copper ambiance is perfect for date night.The bar's lively buzz and urban atmosphere provide Burlington's best spot for a night out with friends.
With our fresh, local spin on global cuisine, and creative cocktails made with house-infused spirits, you'll soon discover why the Daily Planet has been a Burlington landmark for over 30 years!
Dorset Inn Restaurant
Dorset, VT
In 1796, The Dorset Inn welcomed its first guests - travelers en route to the major markets in Boston and Albany. For the first 100 years, the chef relied on the Inn's backyard population of chickens, cows and the vegetable garden for the ingredients in each day's meals. Later, the neighboring farmer supplied fresh Vermont milk and cream while Thomas Hanley's general market was the source for poultry, meat and vegetables. At the Dorset Grist Mill, established in 1876, grains for baking and the country's only source of granola were purchased for patrons. Now completely refurbished, The Dorset Inn is renowned locally and nationally for its gracious, welcoming atmosphere and exceptional cooking.
Dot's Restaurant
Wilmington, VT
The classic diner that was destroyed in 2011 by Hurricane Irene, and rebuilt with a lot of hard work and community support.
EB Strong Steakhouse
Burlington, VT
After 35 years in the restaurant business we found the perfect opportunity to bring Vermont its first USDA Prime Steak House. We have sourced out the finest ingredients, and professional team.
Located in Burlington's historic Church Street Marketplace, we are ready to roll out the red carpet for you!
Espresson Bueno
Barre, VT
Espresso Bueno is an independent coffee shop featuring specialty coffee roasters from around the region. Our house coffee and espresso is roasted by Vermont Artisan Coffee Roasters. Our skilled baristas have been slinging their espresso since we opened our doors in 2007. They are leaders in the industry when it comes to handling coffee from source to cup. Viva Artisan!
Evelyne's on Center
St. Albans, VT
"While the Evelyne gives much of her attention to cookies, tarts and one-person cakes, Martin has more to share. She sells her baguettes and oatmeal-walnut bread with local cheeses. The daughter of French Canadian immigrants, she also crafts highly traditional chicken liver mousse topped with a shiny layer of aspic and decorated with vegetables shaped like a bright floral bouquet."
Read More in a Recent Seven Day's Article About Evelyne's
The Farmhouse Group Restaurants in Burlington, VT: Guild Tavern, Pascolo Ristorante, El Cortijo, and the Farmhouse Tap & Grill.
Burlington, VT
The Farmhouse Group owns and operates The Farmhouse Tap & Grill, El Cortijo Taqueria, Pascolo Ristorante, and Guild Tavern. Our menus are designed to showcase local ingredients and celebrate our local farms and food producers.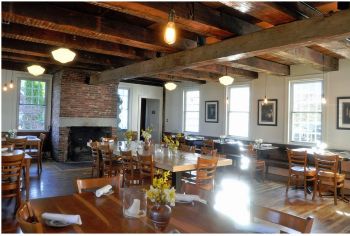 The Gleanery Restaurant
Putney, VT
The Gleanery is a slow food joint located in the heart of Putney Village in the historic Tavern on the Green at 133 Main Street. The restaurant is open for lunch and dinner, Wednesday-Saturday, 11:30-9 and Sundays 11:30-8.
Jeff's Maine Seafood
St. Albans, VT
Fine Dinning. Local Food. Fresh Ingredients. Great Atmosphere.
Jeff's Maine Seafood Facebook Page
The Maple City Diner
St. Albans, VT
Located on Swaton Road, St Albans, this family owned diner offers breakfast all day with VT maple syrup, daily specials and fresh pastries.
Maple City Diner Facebook Page
New Moon Cafe
Burlington, VT
New Moon Mafe in Burlington, VT offers authentic coffee, creative breakfast and lunch items, delicious cupcakes, & much more.

Sarducci's Restaurant and Bar
Montpelier, VT
Sarducci's is a Mediterranean style Italian restaurant. We strive to serve superb food with outstanding service in an informal ambiance.
Using the freshest available ingredients and offering a gluten free menu, we cater to families, special occasions and travelers alike.
Sarducci's is long renowned by our community for great food at reasonable prices.

The Scuffer Steak and Ale House
Burlington, VT
Vermont's Locally Owned Neighborhood Steakhouse. Located right across from City Hall on Burlington's Church Street Marketplace. Our draft selection features many locally brewed beers, as well as craft brewed cans, including Alchemist's Heady Topper! There is always a game to be watched on one of the four hi-definition flatscreen tv's. Enjoy a summer afternoon on Church Street with one of our specialty sandwiches, a local brew, and our outdoor seating. Come experience The Scuffer where an outstanding meal awaits you.
Simon Pearce
Woodstock, VT
Overlooking the idyllic waterfall of the Ottauquechee River, Simon Pearce offers award-wining American cuisine featuring local ingredients and a global wine list amongst the rustic charm and simple elegance of the quintessential Vermont pastoral. Be sure not to miss a trip to our glassblowers' studio.
Stone Soup Restaurant
Strafford, VT
Stone Soup features superb dinners in a historic Vermont house, right on the Strafford Green. Reservations required.
Taps Tavern
Poultney, VT
Taps Tavern is a warm, rustic and comfortable tavern and restaurant featuring 14 beers and ciders on tap. Located on Main Street in the heart of Downtown Poultney, Vermont, and adjacent to the multi-use D&H Recreational Rail Trail, Taps was opened by Serena Gallagher in September of 2012 and has been a regional success ever since. Serena's passion for good food from local farms, great service, and awesome music is evident in the menu, the beer and wine selections, the quality staff, and the live music booked throughout the week. Taps is a place where you will certainly feel welcomed.
Toscano Cafe and Bistro
Richmond, VT
Family-owned, Mediterranean inspired bistro in the hear of Richmond. Chef Jon Fath, his wife Lucie, and their sons Max, Sam and Dylan invite you to experience all the flavors of their Italian and new American cuisine and fine wines.
Village Wine and Coffee,
Shelburne, VT
Over 800 wines from small and family
run wineries plus great coffee and pastries.
Regular in-store wine tastings.
Zabby & Elf's Stone Soup,
Burlington, VT

There is no greater act of caring than preparing food to nourish and share with people you care about—from sourcing and selecting the freshest ingredients, to the time and diligence you invest in preparing it, to the way you present and share it. At Stone Soup, we source, prepare, and present our food as if we are feeding our family and friends every day—because we are.FOOD IS LOVE.