Grand Isle Lake House

Grand Isle Lake House
Grand Isle, Vermont
We undertook our most ambitious single project ever in 1998 -- the preservation of the last remaining turn-of-the-century hotel on Lake Champlain and one of only a few left in Vermont.

In the process we also protected nearly half a mile of Lake Champlain shoreline.
Lake Champlain has long been noted as one of Vermont's greatest treasures. Many lovely
homes, parks, hotels and resorts have come and gone along her shores with people never tiring of ways to enjoy her breathtaking sunsets and quiet waters.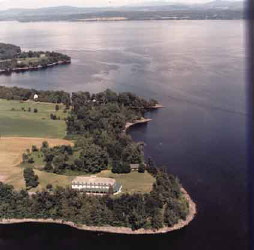 Grand Isle Lake House
Grand Isle, Vermont
Visit the links below to read more about the history and rehabilitation of the Lake House.
The Grand Isle Lake House offers an unparalleled setting for social and business affairs.
Visit the Grand Isle Lake House Web Site for more information on booking your event today.