Georgianna Orebaugh Brush
Obituary
Published in Times Argus on Jan. 27, 2015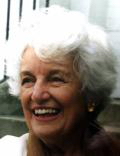 LEXINGTON, Va. - Georgianna Orebaugh Brush died on Jan. 22, 2015, at her beloved Stonehouse on West McDowell Street.
She was born May 26, 1921, in Oak Park, Illinois, the daughter of George Edgar and Honor Halsey Orebaugh. She spent her youth in Dayton and Tiffin, Ohio, and developed an early love of painting. She sang on radio and for small groups in southern Ohio before moving to New York City at age 17 to study under Metropolitan Opera soprano Frances Alda for two years with a full scholarship. Afterward Georgie worked in the radio publicity department at Young & Rubicam. Georgianna really knew how to make news happen. That same flair became her hallmark no matter where she lived or what she threw herself into.
She married Cyrus Eugene Brush in January 1942. Georgie's new husband served as a U.S. Naval lieutenant commander aboard a destroyer escort in the Atlantic Ocean. To celebrate Christmas across their distance Georgie sang and recorded a carol on a 78 rpm disc, then mailed it to him. He was so touched that he played it over the ship's loudspeaker system for the whole crew to hear.
After the war they shared a love of gardening, their home and family. Cyrus and Georgie moved to Wilton, then Redding in Connecticut, where they raised their five children and lived for nearly 20 years. Georgie wowed Christ Episcopal Church in Redding each week with her soprano powers as a member of the choir after practicing at home often within earshot of her children. She continued to pursue her love of painting and studied with Ray Ridabok, Enid Munroe and at the Silvermine Guild in Norwalk. She gave art classes for a small army of middle school students in the basement of her home.
After moving to West Windsor, Vermont, in 1969 she had solo shows in Woodstock and elsewhere. Georgie spearheaded the effort to save Windsor House, a 1840 Greek Revival inn that was to be replaced by a drive-in bank. She and several dedicated residents of Windsor began a herculean effort to raise funds to purchase and renovate the historic anchor of the town. Colleagues credit the indefatigable Georgie with raising more than half the $1 million required to save and rehabilitate Windsor House. She quickly became an important figure in statewide efforts in historic preservation. She was the first president of ThePreservation Trust of Vermont and also served as a National Trust adviser for nine years. She was awarded a Preservation Honor Award in 1987.
After moving to Lexington, Virginia, in 1986 the word had spread and many wanted to enlist her to do similar work in the historic Shenandoah Valley town. But her passion continued to be her painting, and she sought out several teachers and mentors, including I-Hsiung Ju, Kathleen Olson and Robert Stuart. She was a member of a local art cooperative, Artists In Cahoots. Her paintings are now in several private collections, offices, and hospitals and universities.
Her energy was boundless, often leaving people many years her junior breathless. She made a home full of art, flowers, color and beauty in all its forms. She sewed all manner of Halloween costumes for her children, created dress patterns after seeing something she loved in a shop window. She was a creative and bold cook and would fill her favorite cookbooks with her many edits. Her gardens, both vegetable and flower, were impressive by any measure.
Georgie leaves four children: Michael Brush, of Seattle, Washington; Jonathan Brush, of Windsor, Vermont, and his four children; Georgianna "Didi" Brush, of Montpelier, Vermont, and her two children; and Tony Brush, of Mount Pleasant, South Carolina, and his three children. She was predeceased by her husband, Cyrus E. Brush; her brother, Joseph Orebaugh; her son Cyrus Rittenhouse Brush; and her granddaughter.
A celebration of Georgie's life will be held at the Lenfest Center for the Arts at Washington and Lee University in Lexington in May. Details will follow.
Donations in her name may be made to FAIR (Fine Arts in Rockbridge) Scholarships, at P.O. Box 988, 101 S. Main St., Lexington, VA 24450 or The Preservation Trust of Vermont, 104 Church St., Burlington, VT 05401.