23 Things You Can Do to Learn More About Historic Preservation in Vermont
Are you interested in learning more about historic preservation? Getting involved? Here are 23 things you can do:
1. Email us and we'll help you get connected. We're lucky to have hundreds of groups and organizations working to protect and use historic buildings in communities throughout Vermont.

Downtown Bennington, Vermont
2. Visit one of Vermont's historic downtowns. Shop at locally-owned stores -- they are part of the reason why our communities are unique and vibrant places!
3. Have lunch or dinner at a restaurant in an historic building. Pick one where chefs use Vermont-produced food. Check out the Vermont Fresh Network for a great start.
4. Visit to a place where history was made. Vermont has a great collection of historic sites and museums that are open to the public.
5. Visit your local library. Chances are, it's located in an historic building. If you are really curious, find answers to your questions about Vermont history at the Vermont History Center in Barre.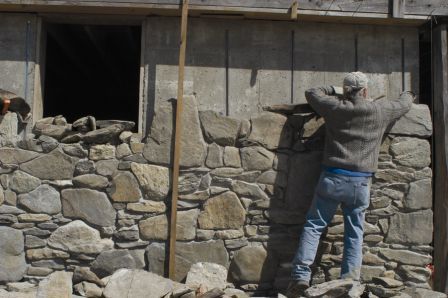 Monitor Barn, Richmond, VT
Photo by Sanders H. Milens
6. Attend a live performance or a movie at an historic theater.
7. Attend Vermont's annual Historic Preservation Conference. Email us for more information.
8. Want to keep current on historic preservation activity in Vermont? Subscribe to Historic Vermont, our electronic newsletter.
9. Want hands-on training? Take a course at the Preservation Education Institute.
10. Interested in a career in historic preservation? Enter the Graduate Program in Historic Preservation at the University of Vermont.
11. Do you have kids or young friends? Try some of these for starters....
Show your kids the building where you went to school, where your parents went to school, or where you got married. Take them to visit former family properties. Tell them stories of growing up in Vermont.
Have breakfast at an authentic Vermont diner.
Visit the Lake Champlain Maritime Museum and learn about Vermont's underwater historic preserves and much more.
Visit a historic museum like the Fairbanks Museum in St. Johnsbury
Visit Shelburne Farms in Shelburne for a great day in a beautiful historic setting.
Take your kids on an outing to a local Vermont country store to spend their allowance. They'll have fun, get something pretty neat and support a locally-owned business, most likely in a historic building in a village or town center.
Connect your kids to Vermont's past by visiting that old cemetery you drive by all the time. Teach them about the early civic leaders in Vermont, then look around your town for their houses or town buildings.

Visit your local historical society for more information. Invite them to consider how these folks would feel about their town if they were alive today.
12. See how some community organizations have rehabilitated historic buildings for affordable housing.
13. Take a walk in one of Vermont's villages. Vermont Walks, Villages and Countryside is available from Vermont Life Magazine. The book includes walks and was published by the Preservation Trust of Vermont and Vermont Life.
14. Tour Vermont's Scenic Byways. You'll discover historic farms and barns, village historic districts, country cemeteries, and covered bridges. Be sure to shop at every village store and buy Vermont-made products.

Rabbit Hill Inn
Lower Waterford, VT
15. Overnight in an Historic Hotel or Bed & Breakfast.
16. Get married at the Grand Isle Lake House.
17. Join the National Trust for Historic Preservation.
18. What to learn more about historic preservation? Check out the National Trust's booklist.
19. Help some of the statewide organizations that are working hard to protect the character of Vermont.
20. In most Vermont communities, worship services are still held in historic buildings. These churches, synagogues, and other places of worship need support. Show your support.
21. Take a trip to a local farm and buy some of their products -- chances are, they are farming on a bit of Vermont history. Check out the farmers who are a part of the Vermont Fresh Network
22. Think twice about shopping at a "big box" store such as Wal-Mart. Check out the Home Town Advantage, a newsletter put together by the Institute for Local Self-Reliance to learn how sprawl presents a tangible threat to historic downtowns all across the country.
23. Make a contribution to the Preservation Trust of Vermont today.